The Inside Story
Easy Recycle Store is no new kid on the block. We're the consumer electronics recycling division of PC Disposal (PCD), one of the oldest and largest technology recycling firms in the industry. PCD provides asset retirement services for companies of all sizes throughout the United States and Canada, and many of our clients are Fortune 500 companies and U.S. government agencies. PCD is an R2 Certified responsible recycler.

Kory Bostwick founded PCD in 1998 because he was concerned that there were few environmentally-friendly options for companies who wanted to dispose of the toxic glut of obsolete computers that were filling offices – and ultimately – landfills. The Easy Recycle Store was launched in 2009 to fill a need for convenient and reputable consumer electronics recycling. It's our belief that the easier it is to recycle electronics, the more likely you are to do it.
R2 Certified Recycler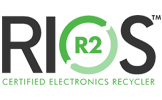 Any electronics recycler can say they won't dump your equipment in a landfill or illegally ship e-waste overseas, but you never really know. Easy Recycle Store is 3rd party certified to be a responsible recycler.

R2 certification is a set of requirements and practices which reviews and verifies that a company is properly disposing electronic equipment, along with ensuring worker health and safety and proper data security practices.