Did you know?
What's in that e-waste? "Lead, cadmium, mercury, chromium, polyvinyl chlorides. All of these materials have known toxicological effects that range from brain damage to kidney disease to mutations, cancers."
Allen Hershkowitz,
Senior scientist at the Natural Resources Defense Council
R2 Certified Recycler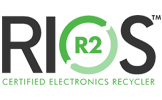 Any electronics recycler can say they won't dump your equipment in a landfill or illegally ship e-waste overseas, but you never really know. Easy Recycle Store is 3rd party certified to be a responsible recycler.

R2 certification is a set of requirements and practices which reviews and verifies that a company is properly disposing electronic equipment, along with ensuring worker health and safety and proper data security practices.